Initial Certification Courses
EMR Course
Emergency Medical Responder
The entry-level medical certification for prospective firefighters and police officers.
EMT Course
Emergency Medical Technician
Get the knowledge, skills, and confidence to handle life-threatening emergencies.
Transform Into A Healthcare Professional
"A truly life-changing experience."
"The best course I've ever taken."
"Amazing instruction from start to finish."
Accreditation & Approvals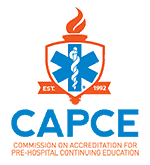 Allied Medical Training is institutionally accredited by the Commission on Accreditation for Prehospital Continuing Education (CAPCE) to provide virtual online continuing education. This accreditation is accepted by the NREMT and most states.
We're an approved EMS training program with the Minnesota EMRSB, our EMT courses lead to EMS certification by the NREMT. Our courses are also approved for continuing education credits with the Minnesota POST Board.
Are you ready to start saving lives?